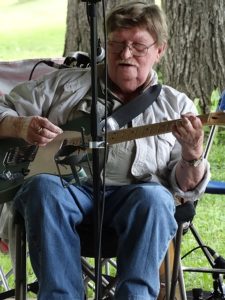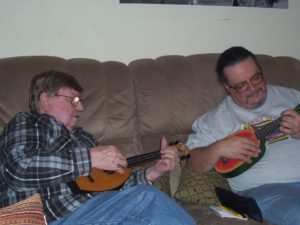 In the days following his passing on January 29, I have been doing a lot of reflection on Whitey Noll – the founder of Pennsylvania Musician Magazine – his friendship and his impact on my life. Considering I just turned 60 in October and started writing for PA Musician when I was 26, Whitey and PA Musician have been a part of my world for more than half my life!
I started writing for PA Musician a couple of years before I actually first met Whitey in person. In the mid-1980s I had been managing and trying to book shows for the Altoona-based hard rock band Tommi-Gunn. I was also just starting to discover the Altoona area music scene, and was already writing and presenting show and album reviews about the scene on WFBG-AM's "All Night Album Rock" program. While browsing at a local record store one evening, I noticed this new magazine called "Pennsylvania Musician" in the store's magazine section and picked up a copy. I was instantly fascinated by its coverage of local music scenes from across the state, and as I was seeking new venues to book Tommi-Gunn shows, my eyes bulged as I saw ads for exciting-looking rock rooms like The Metron in Harrisburg, Swizzle's in York, Paradise Night Spot in Mechanicsburg and many more. (I did get the Gunn booked into the Paradise, that was a fun weekend!) I started advertising Tommi-Gunn in PA Musician, and after several months, the idea popped into my head that – since Altoona didn't yet have a column in the magazine – maybe I could start writing an Altoona column for the publication. Although Whitey's wife, Robin, was lukewarm to the idea at first, I went ahead and sent a sample article anyway, and in June, 1987 that first article appeared in PA Musician.
When I started writing for them, I learned that I would also be delivering the magazines as well. Since the beginning, I have driven to State College each month to pick up the magazines for delivery. At first, I obtained the magazines through the State College writer at that time, Athena Rhodes. (Yes, State College used to have its own column.) Several months in, Athena passed the torch on to another writer, who after a few months also passed the torch to another writer. Eventually, when no new writers stepped up to take over the State College column, I "adopted" State College into my column and coverage area. And with no State College writers to pass the new magazine bundles along to me, Whitey started to bring the magazines to State College himself, which is how I first met him.
We met in a parking lot across Atherton Street from The Autoport. Our first few meetings were pretty business-like, we would transfer the magazines over to my car, and then both head off on our merry ways. But as we became better acquainted, these meetings became more special. Whitey started to bring his ukuleles and harmonica along, and after I loaded magazines, he would invite me to sit with him in his car while he played his new song creations for me. He would share his wisdom about life and about being a musician. And he started bringing cassettes along, which contained the rough demo versions of songs that would eventually appear on his 2001 CD with Joe Agoglia, "Between the Curtains and the Clouds." I became a sort of "sounding board" for Whitey to get an outside perspective on his songs.
After Whitey started having his initial heart issues, Robin took over bringing the magazines to me. But by this point, I was participating in magazine-sponsored events and other special music events in the Harrisburg region, including being part of the PA Musician team at the annual Millennium Music Conference (MMC). Whitey often showed up at MMC for a number of years, bringing his ukulele along and sometimes playing at the conference's open acoustic stage at the trade show. And when I attended events in the Harrisburg area, I started to stay overnight at the "PA Musician Bed & Breakfast," Whitey and Robin's farmhouse abode near Millerstown. These overnight stays became special times with Whitey as well, as Robin would cook up breakfast for both of us the following morning, and we would then sit at the kitchen table and talk, strum ukuleles (Whitey even gave me a few uke lessons!), and as I started doing pen sketches, even showing our artwork to each other. (One of my favorite art creations of Whitey's was a fleet of small wood-carved boats and ships, that sat on the living room window sill.) I learned a lot of wisdom and history from Whitey during those breakfast sessions, and had a lot of fun as well. (Including the snake adventure, when Whitey spotted a large black rat snake in the yard while we were eating breakfast, and we went outside for a closer look. That led to a classic showdown between the snake and an overly-curious feral barn cat. One of those overnight stays also led to a fun fishing outing with Whitey, as we spent the following day angling where the Juniata River empties into the Susquehanna River near Duncannon. We didn't catch any fish, but we did have fun!)
As I reflect on Whitey, I am thankful for his friendship and the impact he and his magazine creation have had on my life. They were game-changers for me. Because of PA Musician, writing about and promoting the local music scene, plus playing local music on the radio became central arcs in my life. It's the main reason I'm still on the radio after all these years. I met many friends along the way because of that magazine. And musicians and people I have met, and friendships I have made through my involvement with PA Musician, have directly or indirectly led to job openings for me, and even my current teaching position at Penn State Altoona! And Whitey's wisdom and perspectives on life live on with me, and have even influenced my own perspectives and attitudes toward life. I learned a lot from him. Years after he brought along his ukulele on those delivery trips to State College, I now play a ukulele (and like Whitey, have accumulated a collection of them as well). And after writing about local musicians for a number of years, I eventually "crossed over to the dark side" and became one myself! Another pleasant memory of Whitey was when my band, the Backyard Rockers, performed in front of him during a PA Musician picnic event a few years ago. He had kind words for us that day, and that meant a lot to us!
In her story about Whitey in this month's commemorative issue of PA Musician dedicated in Whitey's memory, Robin mentioned that Whitey was just 6 years old when his father passed away. This revealed another connecting point between us, as my father passed away when I was 7 (as I have been told, he had his fatal heart attack while he was browsing in a record store). This may be another factor in why Whitey's wisdom and perspective has resonated with me through the years.
Anyway, I will always be thankful for Whitey entering and impacting my life. I'll think of him when I pick up that ukulele, watch musicians pour their hearts and creativity out on live stages, pick up my fishing rod and tackle box to spend some time near a lake or river, or even spot a black rat snake when I am out in the area's wilderness. Thank you Whitey for being a part of my world, and for being you!